Hotels in Mulhouse
Situated at the intersection of three countries, Mulhouse has a unique history and culture. The city is easily accessible and offers many activities. Alsace is just a click away.
OUR MOBILE APPS
Hotel 3 stars - 0 km from Mulhouse downtown
View on the map
More photos
Hotel Kyriad Mulhouse-Centre Welcomes You Hotel Kyriad Mulhouse-Centre is located in the heart of historic Mulhouse, in a ped (...) See hotel description
available
01 april 2018 Starting from EUR 51
Hotel 3 stars - 3 km from Mulhouse downtown
View on the map
More photos
The 3-star Hotel Mulhouse Est - Lutterbach Welcomes You Kyriad Mulhouse Est - Lutterbach is a 3-star hotel locate (...) See hotel description
available
31 march 2018 Starting from EUR 42
Hotel 3 stars - 5 km from Mulhouse downtown
View on the map
More photos
Discover Hotel Kyriad Mulhouse Nord - Illzach At the entrance to wine country and close to the Vosges mountains, near t (...) See hotel description
available
29 march 2018 Starting from EUR 56
Discover other hotels in the Louvre Hotels group for this destination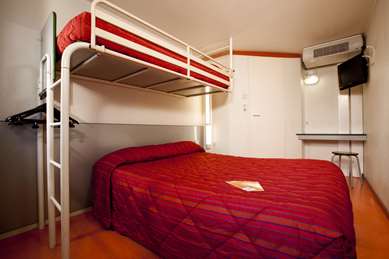 4 km from downtown of Mulhouse
View on the map
Are you looking for a great value Première Classe hotel in Mulhouse? We recommend the Première Classe Hotel Mulhouse Sud Morschwil (...) See hotel description
available
30 march 2018 Starting from EUR 30
Hotel 3 stars - 4 km from Mulhouse downtown
View on the map
Situated less than 10 minutes from the historic city centre of Mulhouse and its station and 20 minutes from Mulhouse–Bâle–Fribourg (...) See hotel description
available
26 march 2018 Starting from EUR 53
Hotel 3 stars - 5 km from Mulhouse downtown
View on the map
Welcome to the Campanile Hotel & Restaurant Mulhouse Illzach, where France meets Germany and Switzerland and the fresh Alsace (...) See hotel description
available
01 april 2018 Starting from EUR 51
Bisected by the Doller and Ill Rivers, two tributaries of the Rhine, Mulhouse is located in eastern France, close to the German and Swiss borders. With a population of more than 110,000, it is the largest city in the Upper Rhine department, and the second largest in the Alsace region of France, behind Strasbourg. Mulhouse has existed since at least the 12th century, having exchanged hands between the Germans and French throughout its history.
Mulhouse was part of the Holy Roman Empire for much of its early existence. From the mid-14th to early 16th century, it had the status of a free imperial city. In 1798, the city became part of France. Mulhouse returned to German possession in the late 19th century, following the Franco-Prussian War. The French regained control of the city during WWI, and a major battle took place in Dornach, a neighbourhood not far from the Kyriad Mulhouse Centre Hotel.
A two-day break:
Two days in Mulhouse is a great opportunity to explore the city's historic sites. Mulhouse's former town hall, built in 1552, is a fine example of Rhenish Renaissance architecture, with frescoes adorning its gilded exterior. The centuries-old Pharmacie au Lys is another iconic Mulhouse building, surviving the Plague and the Thirty Years War. Finally, the Neo-Gothic Saint-Etienne Church, a stone's throw from the Kyriad Mulhouse Centre Hotel, features 12th-century stained glass windows.
A week-long stay:
With a week in Mulhouse, you can take advantage of the unique museums the city has to offer. The Automobile Museum, across the A36 motorway from the Kyriad Mulhouse East-Lutterbach Hotel, has a permanent collection of 400 cars. The French Railway Museum charts the history of railway transport, and also has a restaurant on site. The Museum of Printing fabric is the largest of its kind in the world, and pays homage to Mulhouse's print-making tradition.
A family holiday:
Mulhouse is well-suited for family holidays, with many fun indoor and outdoor activities. The EDF Electropolis Museum combines historical exhibitions with interactive demonstrations and special effects, such as an electrostatic machine. The Mulhouse Zoological and Botanical Garden combines scientific research and conservation, housing and breeding many endangered species of plants and animals. The Parc Arbre Aventure offers outdoor activities, including zip-lining, surfing and mountain-climbing, while the Alsace Eco-Museum allows visitors to experience ancient local culture.
Transports
Mulhouse is very accessible by car, thanks to the A35 and A36 motorways, both of which are close to the Kyriad Mulhouse North-Illzach Hotel. The two motorways provide connections to Paris, Lyon , Stuttgart, Munich, Luxembourg and Milan, among other destinations. A high-speed rail line runs between Paris and Mulhouse (3 hours). The tri-national EuroAirport offers flights to over 100 cities, including European capitals like Amsterdam, Barcelona, Brussels and London.
Gastronomy
As part of the region of Alsace, Mulhouse has a culinary culture heavily influenced by its German neighbours. Local specialities include flammekeuche, a baked tart not unlike pizza, and baeckeoffe, a mixture of three meats cooked in wine. Restaurants in the city serve other Alsatian dishes such as sausages with potatoes, or spätzle, a type of noodle made with poached eggs and fried in butter.

Events
Mulhouse hosts several festivals throughout the year. Each July, the Mulhouse Automobile Festival draws car-enthusiasts for three days of presentations and parades. During the International Carnival, held in February, local and national culture is on display with colourful costumes and floats throughout the city. The "Météo Mulhouse Music Festival" features many music genres, from classical to jazz and rock.
Interesting Fact
Mulhouse is one of the most strategically located cities in Europe. Not only is it situated at the intersection of France, Germany and Switzerland, but it also lies along the Frankfurt-Milan axis, at about the same distance from both cities. It is also equidistant from Paris and Brussels. The city will soon be at the crossroads of the updated European high speed rail network.
Useful Links
Mulhouse official website: http://www.mulhouse.fr/
Mulhouse official tourism website: http://www.tourisme-mulhouse.com/