Hotel Kyriad Arles
The Kyriad Hotel Arles is the ideal base for making the most of the wonders of Provence and the Camargue, the land of Frédéric Mistral and Vincent Van Gogh.

Located just 2 km from the old centre of Arles, your hotel provides the comfort of a 3-star hotel renovated with taste and modern touches.

The Kyriad Hotel Arles boasts 45 rooms in which everything has been considered for business and leisure.

Ideally located, our hotel in Arles is only 1.5 km from the historic town centre, 5 minutes from the motorway, 20 minutes from Nîmes and 40 minutes from Avignon.

Fully air-conditioned, the hotel has Wi-Fi access and satellite TV as well as free, secure parking.
The hotel boasts 45 rooms:
• 20 doubles (double bed)
• 21 twin (2 single beds)
• 4 triples (3 single beds)

All rooms are equipped with air conditioning, ensuite bathroom with shower, hair dryer, free Wi-Fi access, flat screen satellite TV, desk with telephone as well as facilities for enjoying a cup of tea of coffee in your warm and modern room.

The hotel is accessible to guests with reduced mobility and has two specially-adapted rooms.
The breakfast room at the Kyriad Hotel Arles is able to accommodate up to 70 guests seated.

No reservation is required for you to enjoy a variety of sweet and savoury options from our breakfast buffet.

For meals, our reception staff will be able to direct you to our partner restaurants.
Kyriad ARLES offers a wide range of services:
• Free WiFi
• Satellite TV
• Parking
• Restaurant and Cocktail Bar
Discover other hotels in the Louvre Hotels group for this destination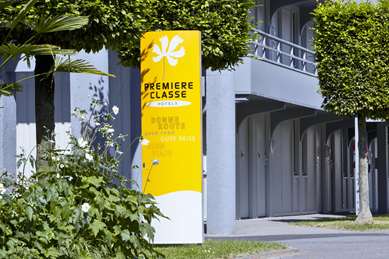 0 km from downtown of Dijon
View on the map
On the edge of the Camargue and several minutes from the town centre, our hotel 1*, is easily accessible from N113 or N453.An idea (...) See hotel description
available
24 march 2018 Starting from EUR 28
Hotel 3 stars - 0 km from KYRIAD MONTBELIARD SOCHAUX downtown
View on the map
Are you looking for a hotel in Arles on the Campanile website? Finding a reasonably priced hotel in Arles is easy and we recommend (...) See hotel description
available
24 march 2018 Starting from EUR 53
Amenities
Wifi access
Double glazing
HandyRoom
Air conditionned hotel
Car Park
Parking Bus
Free Closed Parking
PETS ACCEPTED
Canal+
Address
RUE DES FOURCHES QUARTIER FOURCHON
13200 Arles
Contact
Information:
Phone: +33 4 90 93 88 33
Booking:
Tel: +44 207 519 50 45
Fax: +33 4 90 93 54 45
Email: arles@kyriad.fr
TripAdvisor Traveler Rating
OUR MOBILE APPS