Hotel Kyriad Mulhouse Est - Lutterbach
The 3-star Hotel Mulhouse Est - Lutterbach Welcomes You
Kyriad Mulhouse Est - Lutterbach is a 3-star hotel located 3 miles from the city center, 4 miles from the train station and 12 miles from Bâle-Mulhouse Airport. Our modern hotel is easily accessible from exit 17 off highway A36.
Our hotel-restaurant is ideal for a business travelers and tourists alike and is close to three borders (Switzerland, Germany, France). Mulhouse is located in the heart of a tourist and industrial region.
Make the most of your stay in Mulhouse, the European capital of technical museums, to visit the automobile and railroad museums located less than 10 minutes from the hotel.
Mulhouse also offers a wide range of leisure activities: tennis, golf, zoo, cultural activities, etc.
You will find even more tourist and cultural information at our reception desk. For your convenience, a shopping center is just a 2-minute walk away.
Our 3-star hotel is a convenient base for discovering Alsace, with its wine route, the Vosges and its fantastic panoramas, but also Colmar and its little Venice (25 minutes by car). Our hotel is committed to Quality Tourism ™ and guarantees you quality hospitality services.
Modern Amenities in a 3-Star Hotel
Accommodations at Hotel Kyriad de Mulhouse
We have 53 air-conditioned rooms, including 2 rooms adapted for people with reduced mobility, for 1, 2 or 3 people All our rooms are equipped with flat screen television, free Wi-Fi, telephone, tea and coffee tray and a private bathroom.
Boost Your Energy with Our Breakfast Buffet
All essentials for a good breakfast are offered at only €11.50 per person. Breakfast is half price for your children under 10. For lunch or dinner, our hotel in Breda, located near the highway, gives you easy access to a wide choice of restaurants nearby!
Our secure, comfortable, entertaining and friendly 3-star hotel in Mulhouse Est - Lutterbach offers all the services you need for your comfort and convenience:
- Closed parking with video surveillance for your safety
- Restaurants, theaters, cinema, disco, swimming pool and ice rink accessible immediately in the city center
Visit the Kyriad hotels website to take advantage of current deals and promotional offers! Make your reservations online or from your smartphone with the HotelForYou app for iPhone and Android devices. Locate the nearest hotel, check out the amenities and see what rooms are available. See you soon at our hotels in Mulhouse!
From Paris/Lyon via A6: direction Belfort/Besancon/Mulhouse via A36, exit Mulhouse West. From Strasbourg: take the N83/A35 then direction Belfort/Besancon/Dijon via A36, exit 17 Mulhouse West. From Bale: take the A35 towards Mulhouse then the A36 towards Belfort/Besancon/Dijon, exit 17 Mulhouse West. From Epinal: exit Lutterbach, direction Mulhouse via A36.
Find hotels near hotel KYRIAD MULHOUSE EST - Lutterbach
Hotel 3 stars - 4 km from Mulhouse downtown
View on the map
More photos
Hotel Kyriad Mulhouse-Centre Welcomes You Hotel Kyriad Mulhouse-Centre is located in the heart of historic Mulhouse, in a ped (...) See hotel description
available
01 april 2018 Starting from EUR 51
Hotel 3 stars - 7 km from Illzach downtown
View on the map
More photos
Discover Hotel Kyriad Mulhouse Nord - Illzach At the entrance to wine country and close to the Vosges mountains, near t (...) See hotel description
available
29 march 2018 Starting from EUR 56
Discover other hotels in the Louvre Hotels group for this destination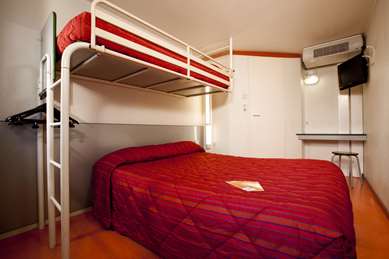 2 km from downtown of KYRIAD MULHOUSE CENTRE
View on the map
Are you looking for a great value Première Classe hotel in Mulhouse? We recommend the Première Classe Hotel Mulhouse Sud Morschwil (...) See hotel description
available
30 march 2018 Starting from EUR 30
Hotel 3 stars - 3 km from KYRIAD BLANC-MESNIL downtown
View on the map
Situated less than 10 minutes from the historic city centre of Mulhouse and its station and 20 minutes from Mulhouse–Bâle–Fribourg (...) See hotel description
available
26 march 2018 Starting from EUR 53
Hotel 3 stars - 7 km from KYRIAD MONTPELLIER - Aéroport downtown
View on the map
Welcome to the Campanile Hotel & Restaurant Mulhouse Illzach, where France meets Germany and Switzerland and the fresh Alsace (...) See hotel description
available
01 april 2018 Starting from EUR 51
Amenities
Air conditionned in rooms
Room service
Tourism Quality label
Wifi access
Restaurant
RESTAURANT
Terrace
Air conditionned hotel
Bar
HandyRoom
Free Closed Parking
Address
10 RUE DE PFASTATT
68460 LUTTERBACH
FR
Contact
Information:
Phone: +33 3 89 53 66 55
Booking:
Tel: +44 207 519 50 45
Fax: +33 3 89 50 81 39
TripAdvisor Traveler Rating
OUR MOBILE APPS