Hotel Kyriad Rodez Gare
The Kyriad Hotel Rodez is a fully refurbished 3-star hotel that makes an ideal base for exploring the historic town centre of Rodez or the Aveyron département.
Located 2 km from the town centre, opposite Rodez SNCF mainline railway station, and 7 km from the airport, the Hotel strikes a perfect balance between the guarantee of quality service and a refreshing change of scene.
There are 42 fully refurbished rooms with double or twin beds.The Hotel has a free public car park.For workshop days, we can offer a room with capacity for 22 participants.
Your Kyriad Hotel Rodez Gare has double and twin 41 rooms with bath and shower.
All rooms have a hairdryer.You can relax and watch television, or work in peace using your telephone line and free Wi-Fi.
You'll be so comfortable here, you won't want to leave!
Your hotel ensures your safety, comfort, entertainment and enjoyment with a range of essential services for your peace of mind and convenience:
- Magazine stand
- Stadium, tennis, swimming pool all available very close to the Hotel
- Free Wi-Fi
- Arrival: 14h-22h
- Departure: until 11h
- Do not accept pet access to lobby
- Reception desk closes from12:00 to 16:00 on weekdays and after 22h. If you are expected to arrive after 22h, please contact the reception desk in advance.
Your meetings in Rodez
For workshop days we offer a room with capacity for 15 participants, with a projector, flat screen TV, DVD player and flipchart.
From all directions : follow "Gare SNCF".
Discover other hotels in the Louvre Hotels group for this destination
Hotel 1 stars - 1 km from Montluçon downtown
View on the map
Welcome to Hotel Première Classe Rodez Hotel Première Classe Rodez hotel is very easy to reach and close to the city ce (...) See hotel description
available
23 march 2018 Starting from EUR 27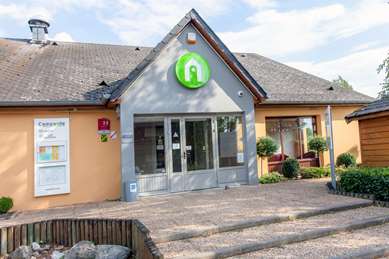 Hotel 3 stars - 1 km from Carquefou downtown
View on the map
The Campanile Rodez hotel is set 5 minutes from the city centre and under an hour's drive from the famous Viaduc de Millau. It is (...) See hotel description
available
01 april 2018 Starting from EUR 42
Amenities
Room service
WIFI free
Wifi access
Meeting rooms
Double glazing
Free public parking
PETS ACCEPTED
Air conditionned hotel
Address
38, AVENUE DU MARECHAL JOFFRE
12000 Rodez
Contact
Information:
Phone: +33 5 65 87 11 00
Booking:
Tel: +44 207 519 50 45
Fax: +33 5 65 87 11 01
TripAdvisor Traveler Rating
OUR MOBILE APPS