Hotel Kyriad Toulouse EST BALMA - Cité de l'Espace
Welcome to Hotel Kyriad Toulouse-Est – Balma
Our 3-star Hotel Kyriad Toulouse-Est – Balma is a 2 minute drive from exit 17 off the beltway to highway A61 from Narbonne/Montpellier to highway A62 towards Bordeaux. Our hotel is located close to Cité de l'espace, the Toulouse – Lasbordes airfield, the Les Espaces de Balma business center and the La Plaine business park. You will also find a Leroy Merlin shopping center directly opposite.
Easily accessible from the expressway Toulouse Matabiau SNCF train station, the historic center of Toulouse and Place du Capitole are just over a mile away. Toulouse-Blagnac International Airport is 9 miles away. Our hotel is close to the Aérodrome – Balma-Gramont metro station.
Our modern 3-star hotel was renovated in 2012. We are open 24 hours a day and offer 58 rooms, including 14 family rooms. For your leisure time, carting, bowling and swimming venues are less than 5 minutes from the hotel. The Space Adventure Park (15 minutes from the hotel) invites you to dive into space for new experiences. Young an old alike will be impressed by a visit of the Airbus site near Toulouse-Blagnac Airport, where you can discover every step of how an airplane is designed.
All the Comforts of a Modern 3-Star Hotel
High-end bedding at Hotel Kyriad Toulouse-Est – Balma
Our Hotel Kyriad Toulouse-Est – Balma offers 58 warm, comfortable rooms, including 14 family rooms (with a large double bed and a single bed) and 3 specially adapted rooms for people with reduced mobility.
Comfort and Amenities
All our rooms are equipped with premium bedding, roll-down shutters and a walk-in shower (hair dryer included). Each room has a flat-screen TV, free Wi-Fi, a desk and a phone. A courtesy tray with cookies, tea and coffee also awaits you.
Nearby Dining Options
Hours:
• Breakfast: from 5:30 am to 10:30 am
Drinks and snacks at any time
A Courtepaille grill is located on the same parking lot as Hotel Kyriad Toulouse-Est – Balma where you can go for dinner. If you need a snack, you can use our vending machines offering hot and cold drinks, candies and snacks. It is accessible at any time of day or night in the hotel lobby.
Breakfast Buffet
To start you day off on the right foot, Hotel Kyriad Toulouse-Est – Balma suggests our very complete breakfast buffet. It is served every morning starting at 5:30 am. Our recently renovated breakfast room and lounge welcome you to enjoy breakfast or have a drink and relax by yourself or with a friend.
Hotel Kyriad Toulouse Est - Balma offers a multitude of services to meet your needs:
RECEPTION:
• Night watchman
• Magazine kiosk
RECREATION:
• Restaurants, theaters, movie theaters, discotheque, swimming pool and billiards in the immediate vicinity of the hotel
ACCOMMODATIONS:
• High quality bedding
• Air conditioning
• Desk and telephone
• Free Internet access
SERVICES:
• Free Internet access
From Montpellier and Narbonne : freeway exit Bordeaux and Castres, ring roadl exit n°17 N126. From Bordeaux : ring road exit n° 17 Castres N126. From Toulouse Blagnac airport: ring road - Direction Montpellier and Castres exit n°17. From Auch: Freeway direction Montpellier and Albi exit n° 17 Castre N126.
Find hotels near hotel KYRIAD TOULOUSE EST BALMA - Cité de l'Espace
Hotel 3 stars - 3 km from Toulouse downtown
View on the map
More photos
Welcome to Hotel Kyriad Toulouse-Centre Located in the center of Toulouse, on the banks of the Canal du Midi, our (...) See hotel description
available
01 april 2018 Starting from EUR 55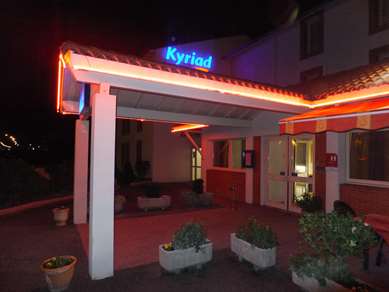 Hotel 3 stars - 11 km from Blagnac downtown
View on the map
More photos
Discover the 3-Star Hotel Kyriadd Toulouse – Blagnac Aéroport Our establishment has an ideal location not far from the (...) See hotel description
available
30 march 2018 Starting from EUR 51
Hotel 3 stars - 16 km from Toulouse downtown
View on the map
More photos
The 3-star Kyriad Hotel Roques-sur-Garonne is located 1 km from the new Grand Portet shopping centre (with 120 shops and twenty re (...) See hotel description
available
30 march 2018 Starting from EUR 47
Discover other hotels in the Louvre Hotels group for this destination
Amenities
Wifi access
Canal+
Private phone
Air conditionned
Night porter
HandyRoom
Parking Bus
Free parking in the hotel
PETS ACCEPTED
Address
6 AVENUE CHARLES DE GAULLE
31130 BALMA
TripAdvisor Traveler Rating
OUR MOBILE APPS