Hotel Kyriad Toulouse Sud – Roques
The 3-star Kyriad Hotel Roques-sur-Garonne is located 1 km from the new Grand Portet shopping centre (with 120 shops and twenty restaurants), less than 10 minutes' drive from the centre of Muret and its SNCF railway station, 22 km from Toulouse's Matabiau SNCF railway station and 23 km from Toulouse Blagnac airport, and within easy reach of the D817 and the A64 motorway (which goes to Spain).
For business or leisure, you are close to Spain, Andorra, the ski slopes of the Pyrenees, and the magnificent Atlantic beaches, whilst avoiding the traffic jams of Toulouse city centre and the ring roads.Looking to relax ? We are 500 metres from the Roques sur Garonne's Lamartine lake, a Voluntary Nature Reserve that's a great place to go jogging.
The Aqualudia de Muret leisure pool complex is 5 minutes' drive and open until 21:00. If you are interested in history, Muret offers the chance to explore the only national park dedicated to the pioneers of aviation.
The Hotel has disabled access, with specific adaptations in communal areas, the breakfast room, 2 meeting rooms and the lobby.
Hotel reception is open 24 hours a day. There is a 24-hour vending machine in the lobby with hot and cold drinks, sweets and snacks. The Hotel also has a private car park.
The Hotel has 3 refurbished meeting rooms, which have natural light and capacity for up to 60 people.
For your benefit, you can also enjoy our exclusive WiFi+ service: free broadband WiFi throughout the hotel to surf, chat and watch videos to your heart's content.
The Hotel has 82 rooms, including 29 standard twin rooms (90 cm x 200 cm beds) and 15 superior rooms with twin beds (120 cm x 200 cm) and 25 superior rooms with a 160 cm x 200cm double bed, as well as 4 interconnecting rooms that are ideal for families, and 3 spacious rooms specially designed for guests with reduced mobility.
The rooms are cosy with contemporary decor, and our rooms all have roller blinds for complete privacy, high-quality bedding with soft duvets, plus adjustable air conditioning, HD flat screen TV with Canal+ and cable channels, a bathroom with walk-in shower and hairdryer and tea and coffee-making facilities and biscuits.
From 05:30 to 10:00, the Hotel provides an extensive breakfast buffet with a choice of healthy, tasty options.
Your hotel ensures your safety, comfort, entertainment and enjoyment with a range of essential services for your peace of mind and convenience:
• Night porter
• Magazine stand
• Restaurants, theatres, cinema, nightclub, swimming pool and billiards is 5minutes in car from the Hotel
• Free Internet access
• Free Parking
Your meetings at Toulouse Roques
The Kyriad Hotel Toulouse Roques has 3 meeting rooms with natural light. The first room, 45 m2, has capacity for up to 15 attendees, and is ideal for meetings or training sessions.
The second room is 75 m2 and has a glass ceiling. It is perfect for drinks receptions or presentations, with capacity for up to 40 attendees in a U-shaped arrangement and 75 theatre-style in U formation and 75 in rows. The third room is 120 m2 and has capacity for up to 60, with free access to a lounge area.
From Bayonne / Biarritz / Tarbes: A64 - direction Toulouse, exit 35 - then D817 direction Toulouse, then half turn, Muret. From Montpellier / Narbonne: A61 - A64 direction Toulouse, then to St Gaudens / Tarbes, exit 36 and D 817, Muret. From Toulouse: RN 20 and D 817 direction Roques / Muret.
Find hotels near hotel KYRIAD TOULOUSE SUD - Roques
Hotel 3 stars - 15 km from Toulouse downtown
View on the map
More photos
Welcome to Hotel Kyriad Toulouse-Centre Located in the center of Toulouse, on the banks of the Canal du Midi, our (...) See hotel description
available
01 april 2018 Starting from EUR 52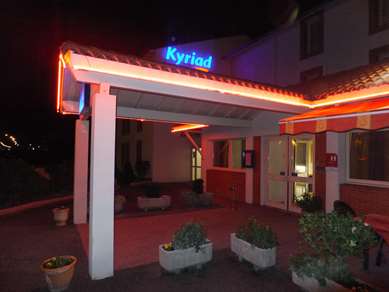 Hotel 3 stars - 16 km from Blagnac downtown
View on the map
More photos
Discover the 3-Star Hotel Kyriadd Toulouse – Blagnac Aéroport Our establishment has an ideal location not far from the (...) See hotel description
available
23 march 2018 Starting from EUR 51
Hotel 3 stars - 16 km from Balma downtown
View on the map
More photos
Welcome to Hotel Kyriad Toulouse-Est – Balma Our 3-star Hotel Kyriad Toulouse-Est – Balma is a 2 minute drive fro (...) See hotel description
available
25 march 2018 Starting from EUR 47
Discover other hotels in the Louvre Hotels group for this destination
Amenities
WIFI +
Air conditionned in rooms
Meeting rooms
Canal+
Private phone
Night porter
Parking Bus
Free Closed Parking
PETS ACCEPTED
HandyRoom
Air conditionned hotel
Air conditionned lobby
Address
1 CHEMIN DES MOINES D817
31120 ROQUES SUR GARONNE
Contact
Information:
Phone: +33 5 61 72 51 51
Booking:
Tel: +44 207 519 50 45
Fax: +33 5 61 72 42 94
Email: toulouse.roques@kyriad.fr
TripAdvisor Traveler Rating
OUR MOBILE APPS