Hotel Kyriad Sedan
The 3-star Kyriad Hotel & Restaurant Sedan was fully refurbished less than 2 years ago.It has 38 rooms, each sleeping 2-4 guests.
The Hotel is easy to get to on the way into Sedan and is located a few hundred metres from the motorway, heading towards the town centre. The Hotel's location means that major roads are within easy reach. Belgium is 20 minutes away, Reims is an hour's drive an Charleville Mézières is 20 minutes' drive.
The Hotel is away from the town centre and peaceful at night. There is a shopping centre 5 minutes' drive away while the town centre is 10 minutes away. The railway station is 20 minutes on foot from the Hotel, enabling guests to travel here by train.
The Hotel is open from 07:00 to 23:00 during the week and from 08:00 23:00 at weekends. It has a meeting room with capacity for up to 15 attendees and a restaurant that is open on weekdays only.
A young, dynamic team will ensure that you have an enjoyable stay in practical, modern surroundings.
We have 38 modern, practical rooms on 2 floors, and each room sleeps 2-3 or 4 guests.
All rooms have an en suite shower and WC.All our rooms feature a flat screen TV with Canal+, free secure Wi-Fi and a shower room with a hairdryer.
Tea and coffee-making facilities and bottled water are provided.
The Hotel has 2 rooms accessible to guests with reduced mobility and 2 disabled parking spaces.
From 06:30 to 09:30 from Monday to Friday, and from 07:30 to 10:30 at weekends and public holidays , you can get your day off to a good start with our breakfast buffet.
Our restaurant is open from Monday to Thursday and offers a menu of 2 starters, 2 main courses and 2 desserts in addition to a seasonal set menu that changes weekly in response to customer preference.
Booking is required. We can cater for groups of 10 to 45 at the weekend by prior reservation.
We provide a range of essential services for your peace of mind and convenience:
- all-day access to the Hotel, security-coded access at night
- cold drinks vending machine
- Wi-Fi, TNT, Canal+
- SNCF railway station 15 minutes' walk away
-Tourist information available at Reception
- Free parking
The meeting room has capacity for 15 delegates theatre-style, and we can provide coffee, tea, fruit juice and pastries at break times if required.
From the highway A34, take the exit N°4 Sedan Centre. Drive straight on 500 meters. After the motorway exit the hotel is on the right. From Sedan, take the direction Charleville Mézières.
Find hotels near hotel KYRIAD SEDAN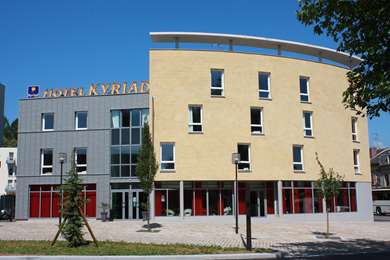 Hotel 3 stars - 17 km from Charleville-Mézières downtown
View on the map
More photos
The Kyriad Hotel Charleville-Mézières is pleased to welcome you to the home town of Arthur Rimbaud. Fully air-conditioned and idea (...) See hotel description
available
30 march 2018 Starting from EUR 60
Discover other hotels in the Louvre Hotels group for this destination
Hotel 3 stars - 1 km from KYRIAD EVRY SUD - Le Coudray Montceaux downtown
View on the map
Your Campanile de Sedan Hotel Restaurant is situated 2 km from the SNCF station, 3 km from Sedan town centre and its famous Louis (...) See hotel description
available
02 april 2018 Starting from EUR 51
Hotel 3 stars - 14 km from downtown
View on the map
Located just 2.5km from the city centre, the Campanile Charleville-Mezieres Hotel is a great place to stay during your visit to Fr (...) See hotel description
available
06 april 2018 Starting from EUR 45
14 km from downtown of Etampes
View on the map
Welcome to Hotel Première Classe Charleville-Mézières Hotel Première Classe Charleville-Mézières is a budget hotel that is id (...) See hotel description
available
06 april 2018 Starting from EUR 29
Amenities
RESTAURANT
Wifi access
Meeting rooms
Shower
Canal+
Parking Bus
Free parking in the hotel
PETS ACCEPTED
HandyRoom
Address
89 AVENUE DE LA MARNE
08200 SEDAN
Contact
Information:
Phone: +33 3 24 29 44 44
Booking:
Tel: +44 207 519 50 45
Fax: +33 3 24 27 28 40
Email: kyriadsedan@orange.fr
TripAdvisor Traveler Rating
OUR MOBILE APPS