Hotels in Epernay
France's Champagne region is known around the world for its sparkling wine. Épernay reflects the region's rich history. Experience it all at the Kyriad Épernay.
OUR MOBILE APPS
Hotel 3 stars - 1 km from Epernay downtown
View on the map
More photos
Welcome to Hotel Kyriad Épernay Our friendly modern Hotel Kyriad Épernay welcomes you in the heart of the Marne wine region w (...) See hotel description
available
26 june 2018 Starting from EUR 67
Discover other hotels in the Louvre Hotels group for this destination
Hotel 1 stars - 1 km from Epernay downtown
View on the map
Your Stay at Hotel Première Classe Épernay-Champagne Our 1-star, newly constructed, Hotel Première Classe Épernay-Champagne h (...) See hotel description
available
01 july 2018 Starting from EUR 36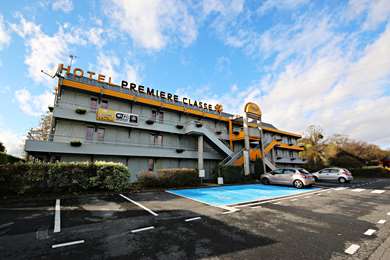 19 km from downtown of Epernay
View on the map
Welcome to Hotel Première Classe Reims-Sud - Bezannes Hotel Premiere Classe Reims-Sud - Bezannes is located 3 and a half mile (...) See hotel description
available
01 july 2018 Starting from EUR 35
Hotel 3 stars - 3 km from Epernay downtown
View on the map
WELCOME TO THE HOTEL CAMPANILE EPERNAY DIZYIdeally located for visits to the Champagne vineyards, 3-star Hotel Campanile Epernay-D (...) See hotel description
available
01 july 2018 Starting from EUR 59
130km northeast of Paris, Épernay is situated on the left bank of the Marne River, in the Champagne region of north-eastern France. With a population of about 25,000, Épernay is one of the smaller communes in this champagne-producing region. Épernay was under episcopalian rule for much of its history, with bishops governing from the 5th to the 10th century. The commune has also been repeatedly destroyed and rebuilt over the centuries.
Épernay was a casualty of the Hundred Years' War, was burned down in 1544, and in 1592 Henry of Navarre laid siege to the town. It has since spread to the right bank of the Marne River, which is close to the Kyriad Épernay hotel. The areas surrounding Épernay are also known for their wine production. The Champagne-Ardenne region of France produces hundreds of millions of bottles annually, more than a third of which are exported out of France.
A two-day break
A two-day break gives you the chance to experience Épernay's champagne culture first-hand. The commune is home to top international champagne producers, including Moët & Chandon, Champagne de Castellane, and Champagne Mercier. The Kyriad Épernay is just a stone's throw from the Castellane and Mercier cellars and within walking distance of Moët, so you can easily take advantage of all that Épernay has to offer. All three champagne houses give tours of their cellars, starting in Spring and continuing until Winter.
A week-long stay
A week gives you enough time to explore France's famed Champagne region. The Champagne Routes are the perfect way to discover the region's hidden treasures; major international brands only represent a fraction of the champagne production in this region and much of the sparkling wine is made on family-owned vineyards. Starting from Épernay, visitors can see these small wineries, as well as monasteries, churches and chateaux, on five different routes that run through the region.
A family holiday
Épernay is a great destination for family trips. The city's past comes alive through a number of historic buildings. The Town Hall (Hôtel de Ville), in close proximity to the Kyriad Epernay, is built in a neo-classical style and sits next to a park which can be used for a picnic. Épernay also boasts three castles in its surrounding areas, including Château de Pierry, Château de Montmort and Château de Condé.
Transports
Épernay is easily accessible by train. The main station, located close to the Kyriad Épernay hotel, provides daily connections to Nancy, Reims and Paris. The town is also accessible by car, and is connected to Paris, Nancy and Strasbourg by the A4 motorway. The closest airport to Épernay is Charles de Gaulle (about 140km).
Gastronomy:
Épernay has great dining options to go with its fantastic champagne. Le Théâtre restaurant serves French dishes made from fresh local produce. Le Cave à Champagne offers samples of different Champagnes to accompany dishes. L'Ancêtre provides a more cosy dining setting, and serves traditional French cuisine. La Sardaigne is a good option for pizza-lovers.
Events:
Christmas in Champagne is a winter-time circuit sponsored by Reims, Épernay, and Chalôns-en-Champagne. During the month-long event, local champagne-producers sell their products in street markets. The Music in Champagne Festival, held in August, celebrates the region's wine-making history with concerts, tastings, demonstrations and winery visits. In December, Épernay hosts the Habits de Lumière festival with concerts, light shows and a parade.
Interesting Fact
Dom Pérignon has often been credited with inventing the sparkling wine that made the Champagne region of France so famous, but historical evidence shows that he was in fact not the first person to make champagne. His purported Eureka moment, "Come quickly, I am drinking the stars," originates from a 19th century advertisement.
Useful Links
Champagne-Ardenne Region Tourism Website: http://www.champagne-ardenne-tourism.co.uk/champagne/default.aspx