Our hotels in Appoigny
Let yourself go for our Kyriad hotels at Appoigny. Right at your arrival, our hoteliers welcome you with nothing but smiles and thoughtfulness. You'll discover the one-of-a-kind comfort of our memory foam pillow. Then, to start the day off right, taste the Kyriad difference, and let yourself fall for the freshness of the Frozen Yogurt for breakfast... Two good reasons for you to come back!
Our hotel selection
In Appoigny and its surroundings
Discover our Kyriad hotels in Appoigny and enjoy comfortable bed rooms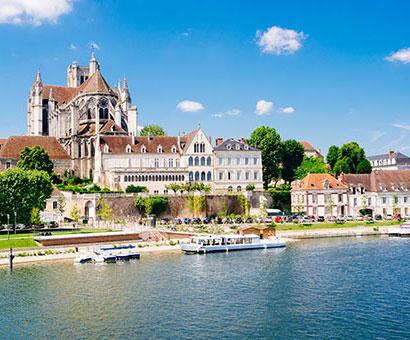 Hotels Kyriad 
Auxerre
Book a comfortable room at one of our Kyriad hotels in Auxerre, nestled in the heart of Yonne Valley. Our properties have private parking, restaurants and meeting rooms. Named City of Art and History in 1995, it is known for its famous St. Stephen Cathedral and historic center that you'll be sure to visit. Located in Burgundy, it is at the doorstep of Chabli...
Discover our hotels