Hotel Kyriad Toulouse Centre
Welcome to Hotel Kyriad Toulouse-Centre
Located in the center of Toulouse, on the banks of the Canal du Midi, our 3-star modern design hotel is conveniently located and easily accessible by exit 17 off highway A61. It is about half a mile from Matabiau SNCF train station, a 10 minute walk from Place du Capitole, just under 2 miles from Cité de l'espace, and just over a mile and a half from the Pierre Baudis Convention Center, just over 2 miles from the Parc des Expositions and 6.5 miles from the Airbus site and Toulouse-Blagnac Airport.
Toulouse, the "Pink City", will charm both shoppers and art and history enthusiasts. Near the hotel you will find La Halle aux Grains Theater, numerous restaurants and Saint-Sauveur Port (2 miles away). In addition, the François-Verdier metro stop, which is 5 minutes on foot from the hotel, will allow you to easily get to the city center. A shuttle is put in place by the Toulouse transport network on days when there are fairs and exhibitions.
Modern Hotel With All the Amenities
Accommodations at Our 3-Star Hotel Kyriad Toulouse-Centre
Hotel Kyriad Toulouse-Centre has 104 air-conditioned rooms that are equipped with large beds or two single beds, or to accommodate families of 3. On your arrival, a courtesy tray with a bottle of water, a kettle, tea, coffee and cookies awaits you in your room.
Comfortable Recently Renovated Rooms
Our rooms have all been renovated and now all have air conditioning. Each room is equipped with bedding and duvet, a desk, telephone, power outlets and bathroom with hair dryer and toiletries.
Full Breakfast
Hours:
• Breakfast: from 6:30 am to 9:30 am
Hotel Kyriad Toulouse-Centre offers a buffet breakfast served every morning at the hotel. This formula is very complete and will allow you to make your own balanced breakfast.
Our secure, comfortable, entertaining and friendly hotel offers you all the services you need for your comfort and convenience:
SERVICES
• Night watchman
• Magazine kiosk
• Restaurants, theaters, movie theaters, discotheque, swimming pool and billiards in the immediate vicinity of the hotel
• Paid parking (€9.50 per night)
ACCOMMODATIONS:
• Recent bedding with duvet
• Desk and telephone
• Trendy decor
• Free Internet access
BUSINESS SERVICES:
• 5 modular meeting rooms from 269 sq. ft. to 1290 sq.ft., that can accommodate up to 80 people in theater configuration
• Flipchart and mineral water available
• Rooms Benefiting from Natural Lighting
From Montpellier via A61: direction Bordeaux via A62, exit 17 Lasbordes, then direction Toulouse Centre. From Bordeaux via A62 or Albi via A68: direction Montpellier via A61, exit 17 Lasbordes, then direction Toulouse Centre. From Tarbes or Blagnac Airport: direction Montpellier via A620, exit 21 Gare Montabiau/Cote Pavee, then follow alongside the canal to Pont Guihemery. The hotel is on the right.
Find hotels near hotel KYRIAD TOULOUSE CENTRE
Hotel 3 stars - 3 km from Balma downtown
View on the map
More photos
Welcome to Hotel Kyriad Toulouse-Est – Balma Our 3-star Hotel Kyriad Toulouse-Est – Balma is a 2 minute drive fro (...) See hotel description
available
30 march 2018 Starting from EUR 47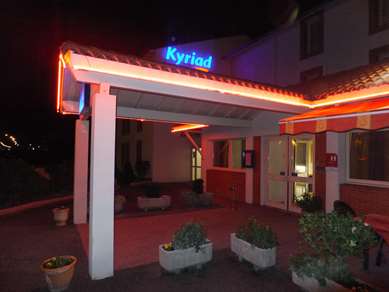 Hotel 3 stars - 8 km from Blagnac downtown
View on the map
More photos
Discover the 3-Star Hotel Kyriadd Toulouse – Blagnac Aéroport Our establishment has an ideal location not far from the (...) See hotel description
available
30 march 2018 Starting from EUR 51
Hotel 3 stars - 15 km from Toulouse downtown
View on the map
More photos
The 3-star Kyriad Hotel Roques-sur-Garonne is located 1 km from the new Grand Portet shopping centre (with 120 shops and twenty re (...) See hotel description
available
30 march 2018 Starting from EUR 47
Discover other hotels in the Louvre Hotels group for this destination
Amenities
Wifi access
Meeting rooms
Double glazing
Hotel charged closed parking
Air conditionned hotel
HandyRoom
Canal+
Night porter
Address
5, BOULEVARD DE LA GARE
31500 TOULOUSE
TripAdvisor Traveler Rating
OUR MOBILE APPS