Hotel Kyriad Mulhouse Centre
Hotel Kyriad Mulhouse-Centre Welcomes You
Hotel Kyriad Mulhouse-Centre is located in the heart of historic Mulhouse, in a pedestrian zone. Getting to the hotel is easy: the train station is 10 minutes away by foot or 3 minutes by tram, and the Bâle-Mulhouse-Fribourg Airport is 30 minutes away by car.
The hotel is your ideal starting point for a day of shopping or cultural sightseeing. Shopping opportunities are everywhere, and you'll be immersed in historical architecture and beautiful monuments.
Tourists and business travelers alike will appreciate free Wi-Fi access available throughout the hotel on request. To facilitate your meetings, we offer three seminar rooms for rent. Don't hesitate to call for more details.
Work is a good thing, but relaxation is just as important. Be sure to take advantage of our fitness space and weight lifting machines, sauna and steam room, open from 7:00 am to 11:00 pm.
A 3-Star Hotel with All the Amenities
Modern Accommodations at Hotel Kyriad Paris 13 – Italie Gobelins
The hotel offers 57 rooms on 6 floors, with double or twin beds, and a bath or shower. All rooms are equipped with a mini safe, a flat screen TV, a desk, a hair dryer and a courtesy tray with a kettle, tea, herbal tea and coffee. Our hotel has two rooms that are accessible for people with reduced mobility.
Comfortable Well-Appointed Rooms
You will be able to relax in your room watching Canal+, or work in peace using your direct phone line and free Wi-Fi access.
Dining at Hotel Kyriad Paris 13 – Italie Gobelins
Schedule:
• Breakfast: 7:00 am to 9:45 am
Don't Miss Breakfast
We welcome you to our breakfast buffet room offering a complete breakfast buffet with delicious selections to choose from.
In a friendly atmosphere providing security, comfort and entertainment, our hotel offers you all the services you need for your peace of mind. Located in a pedestrian zone, you will find shopping, restaurants, theatres, cinemas, discotheques, tennis courts, a swimming pool and skating rink within the immediate proximity of the hotel.
RECEPTION:
• Night watchman
• Private parking
RESTAURANTS:
• Bar-restaurant with hot dishes
• Breakfast tray in room ACCOMMODATIONS:
• Private bathroom
• Access for people with reduced mobility
SERVICES:
• Free Wi-Fi connection
• Dry-cleaning and laundry service
• Gym, sauna and steam room
• Safe at the reception
From Paris/Lyon via A6 : direction Belfort/Besançon/Mulhouse via A36 exit 17 Mulhouse. From Strasbourg : follow Mulhouse via N83/A35 then Belfort/Besançon/Dijon via A36, exit 17 Mulhouse. From Bâle : A35 direction Mulhouse then A36 direction Belfort/Besançon/Dijon exit 17 Mulhouse. When arrived at Mulhouse, follow city center then Parking des Marechaux (direct access to the hotel at level -1, aisle E). If you use a GPS, please program Rue de l'Arsenal and straight to the Parking Rue des Marechaux.
Find hotels near hotel KYRIAD MULHOUSE CENTRE
Hotel 3 stars - 4 km from Lutterbach downtown
View on the map
More photos
The 3-star Hotel Mulhouse Est - Lutterbach Welcomes You Kyriad Mulhouse Est - Lutterbach is a 3-star hotel locate (...) See hotel description
available
27 april 2018 Starting from EUR 42
Hotel 3 stars - 5 km from Illzach downtown
View on the map
More photos
Discover Hotel Kyriad Mulhouse Nord - Illzach At the entrance to wine country and close to the Vosges mountains, near t (...) See hotel description
available
22 april 2018 Starting from EUR 45
Discover other hotels in the Louvre Hotels group for this destination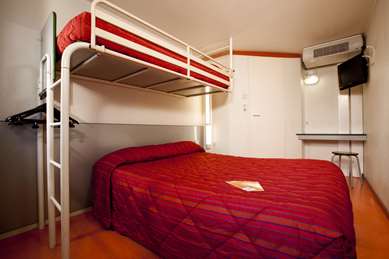 4 km from downtown of KYRIAD MULHOUSE CENTRE
View on the map
About Hotel Première Classe Mulhouse Sud - Morschwiller-le-bas Are you looking for a budget hotel in Mulhouse on the Hotel Pr (...) See hotel description
available
25 april 2018 Starting from EUR 29
Hotel 3 stars - 4 km from KYRIAD BLANC-MESNIL downtown
View on the map
Situated less than 10 minutes from the historic city centre of Mulhouse and its station and 20 minutes from Mulhouse–Bâle–Fribourg (...) See hotel description
available
04 may 2018 Starting from EUR 47
Hotel 3 stars - 5 km from KYRIAD MONTPELLIER - Aéroport downtown
View on the map
Welcome to the Campanile Hotel & Restaurant Mulhouse Illzach, where France meets Germany and Switzerland and the fresh Alsace (...) See hotel description
available
21 april 2018 Starting from EUR 49
Amenities
LIFT
Wifi access
Meeting rooms
Air conditionned hotel
Bar
HandyRoom
Public charged parking
PETS ACCEPTED
Sauna
Address
15, RUE LAMBERT
68100 MULHOUSE
Contact
Information:
Phone: +33 3 89 66 44 77
Booking:
Tel: +44 207 519 50 45
Fax: +33 3 89 46 30 66
Email: kyriad@hotel-mulhouse.com
TripAdvisor Traveler Rating
OUR MOBILE APPS